Ubiquiti airFiber 5U 5.9GHz and 6GHz, 1Gbps+, FDD, 100Km+ Point to Point Radio – Complete Link
The Ubiquiti airFiber 5U is a revolutionary backhaul point-to-point radio system. Taking advantage of the 5.9 and 6.0GHz frequencies, the 5U has a range of up to 100Km+ at an incredible 1Gbps+ speed. The AF5U can operate in the 5.7 – 6.2 GHz bands, enabling co-location with devices operating in the lower 5 GHz bands.
Ubiquiti airFiber 5U 5.9GHz and 6GHz Key Features
1Gbps+ throughput
50MHz channel
Full Duplex
100Km+ Range
Brand new alignment UI
Industry disruptive price point
Product Model Number: AF-5U-LINK
Innovative Antenna Design
The high-isolation, dual-antenna design is ideal for robust performance in the harshest RF noise environments.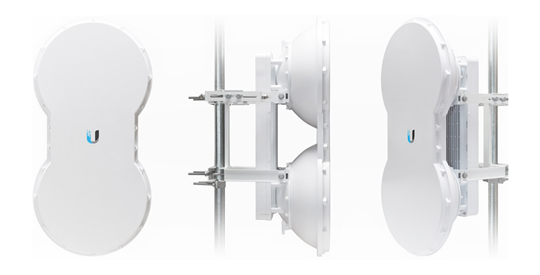 Revolutionary Performance
Surpassing conventional wired backhauls, the airFiber®5 delivers real throughput of up to 1.2+ Gbps.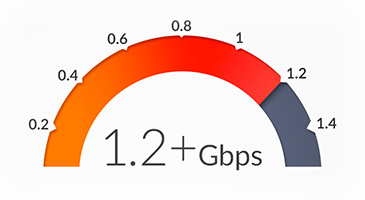 Long-Range Links: 100+ km
Designed to be a high-performance backhaul, the airFiber®5 performs at a range of up to 100+ km.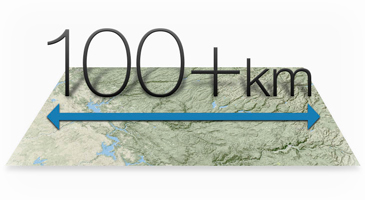 Low-Latency Carrier Backhaul
The airFiber®5 supports FDD (Frequency Division Duplexing) in full-duplex mode for < 1 ms latency, resulting in increased efficiency for carrier-class network backhauls.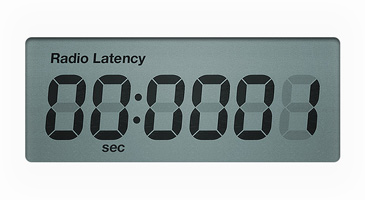 5 GHz Unlicensed Band
The airFiber®5 operates in worldwide, license-free, 5 GHz frequencies. Users can deploy airFiber5 almost anywhere they choose (subject to local country regulations).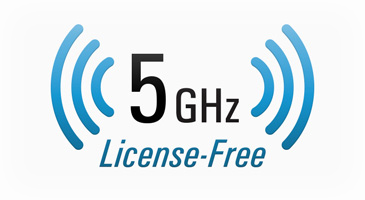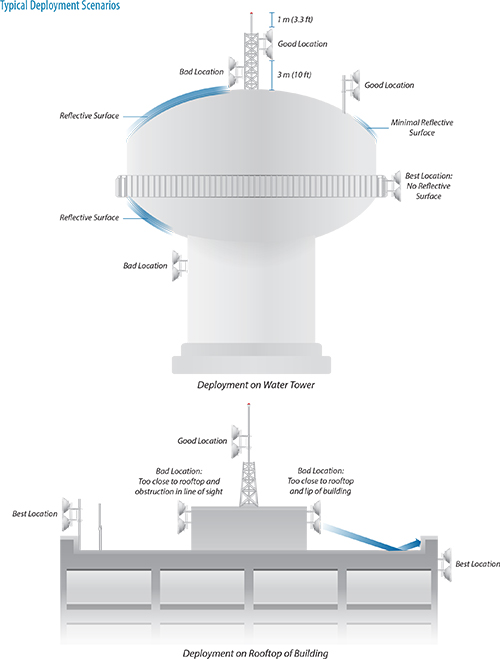 Ubiquiti airFiber 5U – Technical Specifications
General
Dimensions:
– Radio: 938.4 x 468.4 x 281.4 mm (36.94 x 18.44 x 11.08″)
– Box: 1042 x 573 x 502 mm (41.02 x 22.56 x 19.76″)
Weight:
– Radio (Mount Included): 16 kg (35.27 lb)
– Box: 26.5 kg (58.42 lb)
Max. Power Consumption: 40W
Power Supply: 50V, 1.2A PoE GigE Adapter (Included)
Power Method: Passive Power over Ethernet
Supported Voltage Range: +42 to +58VDC, -48VDC
Automatic Transmit Power Control (ATPC): Yes
Certifications: CE, FCC, IC
Mounting: Pole Mount Kit (Included)
Wind Loading: 863 N @ 200 km/hr (194 lbf @ 125 mph)
Wind Survivability: 200 km/hr (125 mph)
Operating Temperature: -40 to 55° C (-40 to 131°F)
LEDs (12) Status LEDs:
– Data Port Link/Activity
– Data Port Speed
– Management Port Link/Activity
– Management Port Speed
– GPS Synchronisation
– Master/Slave
– Link Status
– Modulation Mode 0.25x to 4x, 6x, 8x, 10x (Unlabeled), Overload
– Remote and Local Displays (Calibrated Signal Strength)
Operating Frequency
FCC 15.247, IC RSS-210: 5725 – 5850 MHz
ETSI EN 302 502: 5725 – 5875 MHz
Other Regions: 5725 – 6200 MHz
Interface
Data Port: (1) 10/100/1000 Ethernet Port
Management Port: (1) 10/100 Ethernet Port
Auxiliary Port: (1) RJ-12, Alignment Tone Port
System
Maximum Throughput: 1.2+ Gbps
Maximum Range: 100+ km (Dependent on Regulatory Region)
Packets per Second: 1+ Million
Encryption: 128-Bit AES
Uplink/Downlink Ratio: 50% Fixed
Latency:- Full Duplex Mode: < 200 µs at Full Throughput – Half Duplex Mode: < 2 ms at Full Throughput
Radio Frame Synchronisation: GPS
Dynamic Frequency Selection: CE (FCC/IC Not Applicable)
MTU (Maximum Transmission Unit): Up to 9600
Suggested Max. TX Power
10x: 39 dBm
8x: 43 dBm
6x: 45 dBm
4x and below: 47 dBm
Radio Frequency
GPS: GPS Clock Synchronisation
Also check
Ubiquiti airFiber 5 5GHz, 1Gbps+, FDD, 100Km+ Point to Point Radio – Single UniUbiquiti UniFi Protect G3 Instant Video Camera