Ubiquiti airFiber AF-4X 4.9 GHz Backhaul Radio – Single Unit
The Ubiquiti airFiber 4X is Ubiquiti's first licensed spectrum radio designed for the public safety sector. The AF-4X meets the growing need of broadband capacity and optimises the use of the 4.9 GHz radio band with its industry-leading spectral efficiency and TDD throughput.
AF-4X Key Features
Up to 500+ Mbps Real Throughput, Up to 200+ km Range
Optimal Use of 4.9 GHz Radio Band for Public Safety Sector
Ubiquiti's INVICTUS™ Custom Silicon
The AF-4X allows you to customise airFiber backhaul links or upgrade existing Rocket Point to Point (PtP) links. Deploy the high-performance and reliable AF-4X for municipal applications, including police, fire, and emergency medical services.
Engineered for Performance
Ubiquiti's INVICTUS™ custom silicon and proprietary radio architecture are designed specifically for long-distance, outdoor wireless applications.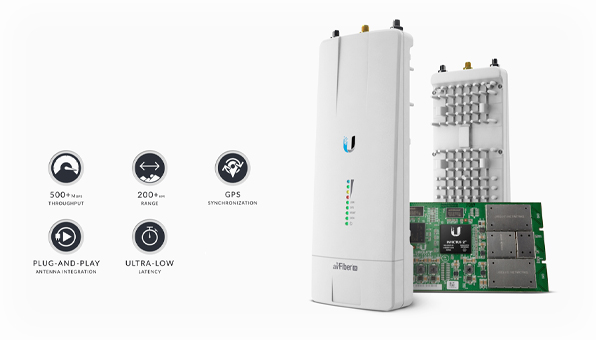 Deployment Flexibility
The compact form factor allows the airFiber X to be used with airFiber Slant 45 antennas, or instantly upgrade a 5 GHz Rocket™link that uses a RocketDish™RD‑5G30/RD‑5G34* antenna.
Carrier Backhaul for the World
Deploy the 2.4, 3, 4, 5 or 11 GHz model that meets your specific spectrum requirements, anywhere around the world. The airFiber X features multiple channel width options to suit your deployment needs – up to 11 different channel sizes available for the AF-2X or AF-3X.


Optimal Operation and Channel Configuration
Channel width flexibility allows you to independently configure TX and RX channel frequencies and place them anywhere within the radio band to avoid local interference. You also have the ability to program different uplink and downlink duty cycles to support asymmetric traffic requirements.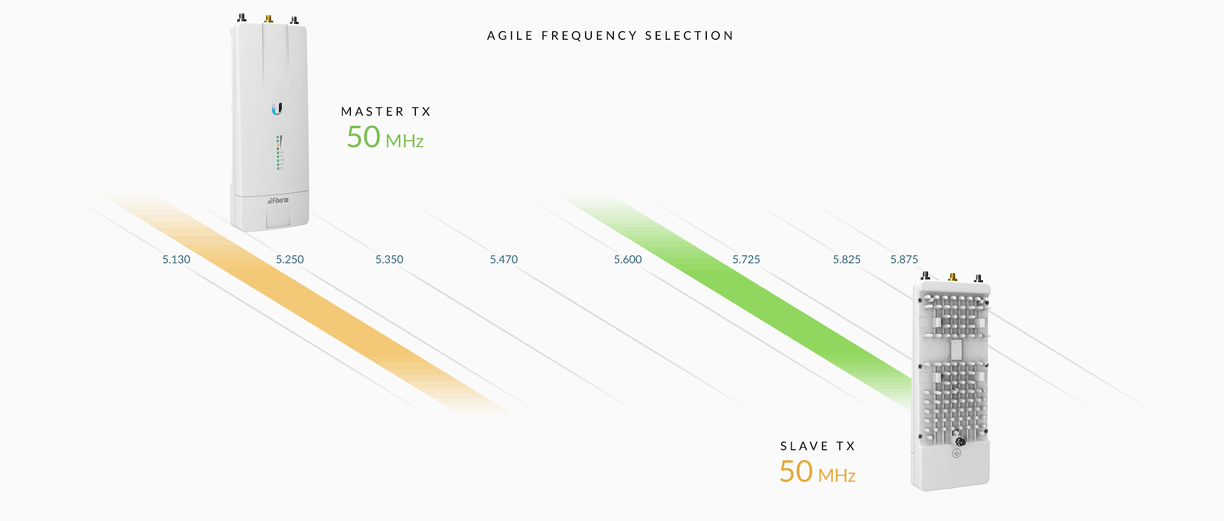 Ubiquiti airFiber 4X Technical Specification
General
Dimensions:
– Radio: 224 x 82 x 48 mm (8.82 x 3.23 x 1.89″)
– Box: 261 x 107 x 107 mm (10.28 x 4.21 x 4.21″)
Weight:
– Radio: 0.35 kg (0.77 lb)
– Box: 1.1 kg (2.43 lb)
RF Connectors:
– (2) RP-SMA Weatherproof (CH0, CH1)
– (1) SMA Weatherproof (GPS)
GPS Antenna: External, Magnetic Base
Power Supply: 24V, 1A PoE Gigabit Adapter (Included)
Power Method:
– Passive Power over Ethernet
– Pins 1, 2, 4, 5 (+) and Pins 7, 8, 3, 6 (-)
Max. Power Consumption: 15W @ Max. Power/Duty Cycle
Supported Voltage Range: +18 to +54VDC
Mounting:
– airFiber X Mount (Rocket Mount Compatible)
– GPS Pole Mount (Included)
Certifications: CE, FCC, IC
Operating Temperature: -40 to 55° C (-40 to 131° F)
Networking Interface
Data Port: (1) 10/100/1000 Ethernet Port
Management Port: (1) 10/100 Ethernet Port
System
Processor: INVICTUS IC
Maximum Throughput: 687 Mbps
Maximum Range: 200+ km
Encryption: 128-bit AES
OS: airOS® F
Wireless Modes: Master/Slave
Latency Half Duplex Mode: < 2 ms at Full Throughput
MTU (Maximum Transmission Unit): Up to 9600
Radio
Frequency Range:
– FCC: 4940 – 4990 MHz
– IC: 4940 – 4990 MHz
– ETSI: 4700 – 4990 MHz
– Other Regions: 4700 – 4990 MHz
Max. Conducted TX Power: 29 dBm (Dependent on Regulatory Region)
Frequency Accuracy:
– ± 2.5 ppm without GPS Synchronisation
– ± 0.2 ppm with GPS Synchronisation
Channel Bandwidth:
– 3.5/5/7/10/14/20/28/30/40/50/56 MHz Selectable
– Programmable Uplink and Downlink Duty Cycles
Suggested Max. TX Power
8x: 21 – 22 dBm
6x: 23 – 24 dBm
4x: 25 – 26 dBm
2x: 29 dBm
1x: 29 dBm
Also check
Ubiquiti airFiber AF-4X 4.9 GHz Backhaul Radio – Complete LinkUbiquiti airFiber 24 GHz Point-to-Point Radio Single UnitUbiquiti airFiber AF-2X 2.4 GHz Backhaul Radio – Single Unit