Ubiquiti airFiber X Antenna 11 GHz
The Ubiquiti airFiber AF-11G35 is designed for use in the licensed 11 GHz band. Break free of the crowded 5 GHz spectrum by pairing the airFiber AF-11G35 antenna with the airFiber AF-11FX radio (available separately), to create the endpoint of an 11 GHz high-performance, full-duplex, Point-to-Point bridge or network backhaul.
Ubiquiti airFiber AF-11G35 Key Features
Powerful Performance
Robust Design and Construction for Outdoor Use
Seamless Integration
Carrier-Class Construction
Plug and Play Integration
The airFiber AF-11G35 antenna delivers SISO or 2×2 MIMO, dual-polarity performance. Below is one example of how the AF-11G35 antenna with the AF-11FX radio can be deployed as endpoints in a backhaul link to deliver bandwidth from a WISP network out to a neighborhood tower. From there, an airMAX® Sector antenna with a Rocket® radio delivers bandwidth to the WISP's customers.
Compact Footprint for Deployment Flexibility
The compact form factor allows the airFiber X Antennas to be used in various applications, from carrier backhauls between towers to PtP bridging between buildings.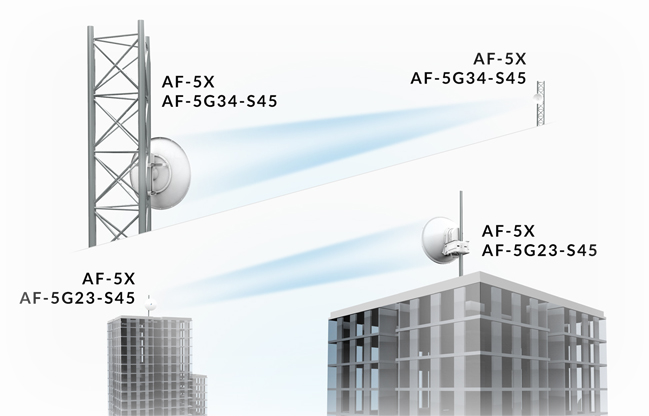 Plug and Play Integration
The airFiber X Antennas are designed to integrate seamlessly with the airFiber X radios.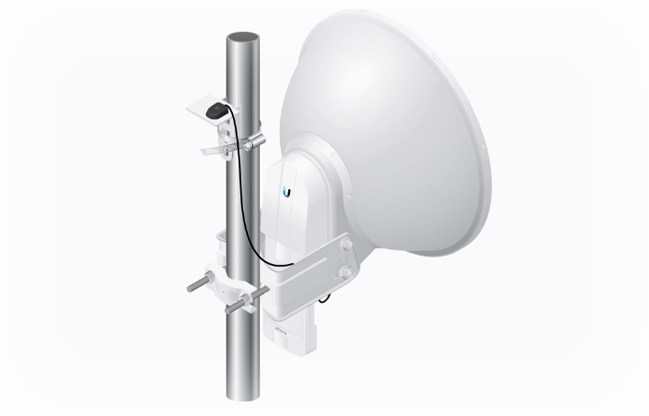 Advanced RF Isolation Design
The innovative industrial design improves RF isolation to significantly reduce interference and deliver superior gain for high‑capacity, multipoint networks.

Innovative, Weatherproof Design
Secure Pole-Mounting Maintains the postition of the dish during harsh outdoor conditions
Protective Shroud Protects the cables and connectors from the elements.
Integrated Radome Shields the radio from the environment.
Mount Designed for Safety, Easy Upgrade
Lanyard Loops Assist in safely hoisting the antenna up a tower and into place.
Azimuth Support Brackets Allow the antenna to be safely supported while the azimuth is adjusted.
Shared AF-5/AF-5U Mount Design Facilitates upgrade of full-duplex links from unlicensed 5 GHz to licensed 11 GHz.
Ubiquiti airFiber AF-11G35 – Technical Specifications
Product Specifications
Dimensions: ø 811 x 460 mm (ø 31.9 x 18.1″)
Weight:
– Mount Not Included : 7.14 kg (15.74 lb)
– Mount Included : 11.85 kg (26.12 lb)
Frequency Range: 10.3 – 11.7 GHz
Gain: 35 dBi
HPOL Beamwidth: 2.5°
VPOL Beamwidth: 2.5°
Front-to-Back Ratio: 60 dB
Max. VSWR: 2:1
Wind Survivability: 200 km/h (125 mph)
Wind Loading: 1538 N @ 200 km/h (346 lbf @125 mph)
Polarization:
– Default: H/V
– After Rotating OMT: ±45°
Cross-Pol Isolation: 35 dB
Mounting: Uses the AF-5/AF-5U Mounting System
Pattern Regulatory: ETSI 302 217-4-2, Class 3 and FCC Cat B
Also check
Ubiquiti Omni Antenna airMAX MiMo 5GHz 10dBi – AMO-5G10Ubiquiti UniFi nanoHD Access Point – 4×4 MU-MIMO 802.11ac Wave 2 (UAP-NanoHD)