Ubiquiti airMAX LiteBeam M5 23dBi Wireless Broadband CPE (LBE-M5-23)
The LBE-M5-23 is the latest evolution of a lightweight and compact, outdoor wireless broadband CPE (Customer Premises Equipment) from Ubiquiti Networks. The LBE-M5-23 was designed to be an affordable cost/performance solution for long-distance, wireless broadband bridging. It operates in the worldwide, license-free 5 GHz frequency range and features high performance of up to 100+ Mbps in real outdoor throughput and an incredible range of up to 30+ km.
The LBE-M5-23 combines proprietary hardware and software technologies to deliver its breakthrough combination of throughput and range with cost-effective value. Its InnerFeed technology integrates the entire radio system into the feedhorn of the antenna, and our revolutionary airMAX TDMA protocol enhances network performance and scalability.
The LBE-M5-23 also features a unique ball joint mounting system that provides 3-axis adjustment flexibility for versatile mounting options. The mounting system, coupled with the built-in bubble level, enables quick and easy alignment.
Application Examples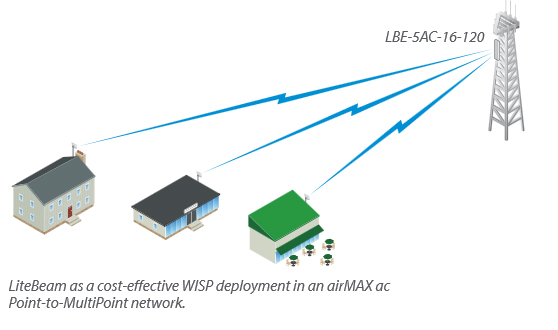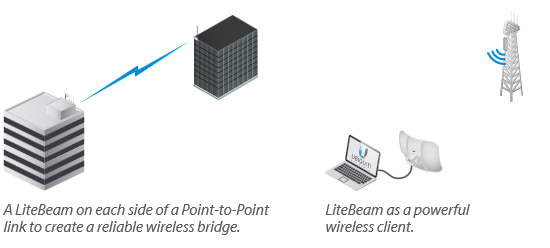 The LiteBeam mounted outdoors with the reflector installed provides directional outdoor coverage (gain reflector-dependent).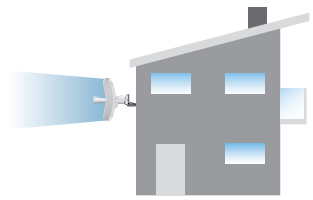 The LiteBeam mounted outdoors without the reflector installed provides outdoor-to-indoor coverage using the 3 dBi Antenna Feed only.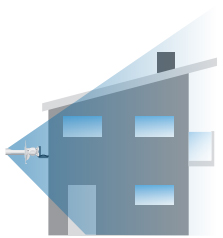 InnerFeed Technology
Ubiquiti's revolutionary InnerFeed technology integrates the radio into the feedhorn of an antenna, so there is no need for a cable*. This improves performance because it eliminates cable losses.
Providing high performance and robust all-in-one mechanical design at a low cost, the NanoBridge is extremely versatile and cost-effective to deploy.
Integrated airMAX Technology

Unlike standard Wi-Fi protocol, the exclusive Ubiquiti Networks airMAX Time Division Multiple Access (TDMA) protocol allows each client to send and receive data using pre-designated time slots managed by an intelligent AP controller. This "time slot" method eliminates hidden node collisions and maximizes airtime efficiency.
Compared to other systems in its class, the LBE-M5-23 delivers superior performance in reduced latency, throughput, and scalability.
Intelligent QoS – Priority is given to voice/video seamless streaming.
Scalability – High capacity and scalability.
Long Distance – Capable of high-speed, 30+ km links.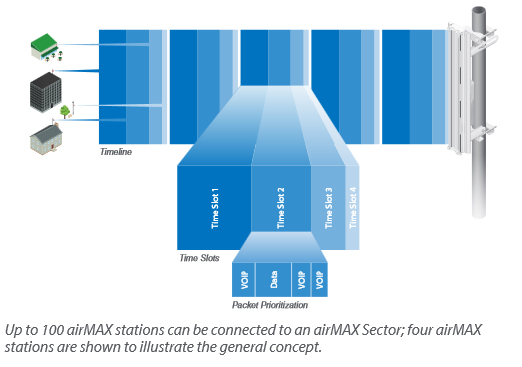 Full Adjustment Flexibility
The LiteBeam features a unique ball joint mount that provides adjustment flexibility along three axes for versatile mounting options. The mounting system, coupled with the built-in bubble level, enables quick and easy alignment.
Quick, Snap-and-Lock Assembly
The all-new mechanical design makes assembling the LBE-M5-23 and LBE-5AC-23 – literally – a snap. No tools are required. Simply snap the feed, antenna panels, rear housing, and ball joint mount together for a secure, solid assembly.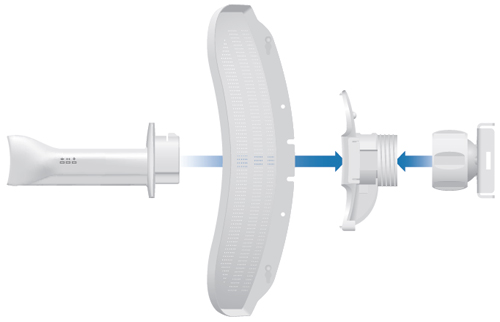 Also check
Ubiquiti UFiber UF-LOCO GPON (Gigabit Passive Optical Network) CPE