Ubiquiti EdgeMAX EdgeRouter X SFP
The Ubiquiti EdgeRouter X SFP is powered by an external power adapter. The five Gigabit RJ45 ports support 24V passive PoE output for airMAX or UniFi devices, while its SFP port provides fiber connectivity to support backhaul applications.
Ubiquiti EdgeRouter X SFP Key Features
(5) Gigabit RJ45 ports with passive PoE support
(1) Gigabit SFP port for backhaul applications
Ports configurable for line-rate, Layer-2 switching
130 kpps for 64-byte packets
1 Gbps for 1518-byte packets
Powered by a proprietary and intuitive graphical interface, EdgeOSTM, every ER-X-SFP can easily be configured for the routing, security, and management features required to efficiently run your network.
The EdgeRouter X SFP provides a graphical user interface designed for convenient setup and control. Accessed via a network port and web browser, the user provides intuitive management with a virtual view of the ports, displaying physical connectivity, speed, and status.
Example of a CPE Deployment
Powered by the 24V passive PoE, the ER-X-SFP provides data to the NanoBeam, the UniFi Video Camera Pro, the AP AC, and the computer.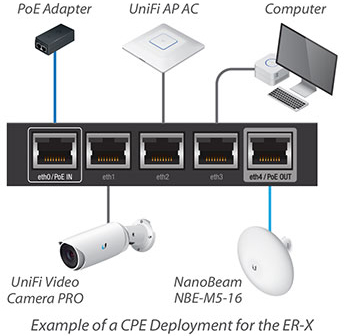 Example of a Service Provider Deployment
Multiple ER-X-SFP devices connect the Internet and three OSPF areas of the service provider's network.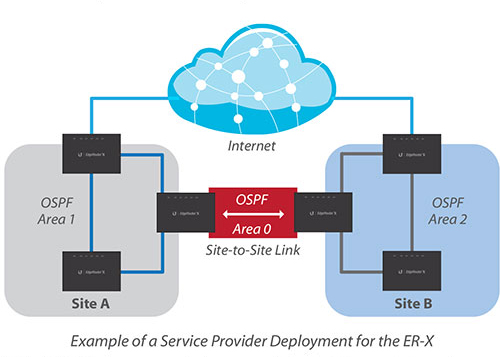 Ubiquiti EdgeRouter X SFP – Technical Specification
General
Dimensions: 142 x 75 x 23 mm (5.59 x 2.95 x 0.91″)
Weight: 215g (7.58 oz)
Max. Power Consumption: 5W
Max. Total PoE Output: 50W @ 24V
PoE Output: Passive 24V (Pins 4, 5+; 7, 😎
Power Input: 24VDC, 2.5A Power Adapter (Included)
Power Supply: External AC/DC Adapter
Supported Voltage Range: 9 to 26VDC
Button: Reset
LED: Power, Link/Activity (6), PoE (5)
Processor: Dual-Core 880 MHz, MIPS1004Kc
System Memory: 256 MB DDR3 RAM
Code Storage: 256 MB NAND
Certifications: CE, FCC, IC
Wall-Mount: Yes
ESD/EMP Protection: Air: ± 24 kV, Contact: ± 24 kV
Operating Temperature: -10 to 45° C (14 to 113° F)
Operating Humidity: 10 to 90% Noncondensing
Networking Interfaces
Data/PoE Output Port: (5) 10/100/1000 RJ45 Ports
Data Port: (1) 100/1000 SFP Port
PoE with 24VDC Power Adapter
PoE Out Voltage Range: 22-24VDC
Max. PoE Wattage Per Data/PoE Output Port: 12W (24V)
Max. PoE Wattage Combined (All 5 Data Ports): 50W
PoE Method: Passive
Also check