Ubiquiti EdgeSwitch Lite 48 Port
The Ubiquiti EdgeSwitch Lite 48 is a fully managed, Gigabit switch, delivering robust performance and intelligent switching for growing networks. The EdgeSwitch Lite offers an extensive suite of advanced Layer 2 switching features and protocols, and also provides Layer 3 routing capability.
Ubiquiti EdgeSwitch Lite 48 Key Features
(48) Gigabit RJ45 Ports
(2) SFP+ Ports
(2) SFP Ports
(1) Serial Console Port
Non-Blocking Throughput: 70 Gbps
Switching Capacity: 140 Gbps
Forwarding Rate: 104.16 Mpps
Optical Fiber Backhaul
Two SFP ports support uplinks of up to 1 Gbps. For high-capacity uplinks, the EdgeSwitch Lite 48 includes two SFP+ ports for uplinks of up to 10 Gbps.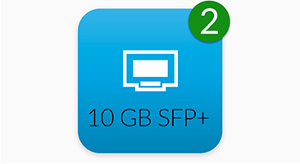 Powerful Enterprise Switch
The EdgeSwitch Lite 48 simultaneously processes traffic on all ports at line rate without any packet loss. Total non-blocking throughput is up to 70 Gbps for the EdgeSwitch Lite 48.



Advanced UI
Designed for convenient management, the EdgeSwitch Lite 48 Configuration Interface allows administrators to configure and monitor switch features in a graphical user interface. For advanced users, an industry-standard command-line interface (CLI) is available through the serial console port, telnet, and SSH.

Ubiquiti EdgeSwitch Lite 48 – Technical Specifications
General
Dimensions: 443 x 43 x 286 mm (17.44 x 1.69 x 11.26″)
Weight:
– Rack-Mount Brackets Included – 3.65 kg (8.05 lb)
– Rack-Mount Brackets Excluded – 3.56 kg (7.85 lb)
Total Non-Blocking Throughput: 70 Gbps
Switching Capacity: 140 Gbps
Forwarding Rate: 104.16 Mpps
Max. AC Power Consumption: 56W
Power Method:
– AC: 100-240VAC/50-60 Hz, Universal Input
– DC: DC 56W, 25 to 16V, with 2.5 mm DC Power Inline Connector
Power Supply: AC/DC, Internal, 56W DC
LEDs Per Port:
– Serial Console Port: N/A
– RJ45 Data Ports: Speed/Link/Activity
– SFP+/SFP Data Ports: Speed/Link/Activity
Networking Interfaces:
– (48) 10/100/1000 Mbps RJ45 Ethernet Ports
– (2) 1/10 Gbps SFP+ Ethernet Ports
– (2) 1 Gbps SFP Ethernet Ports
Management Interface: (1) RJ45 Serial Port, Ethernet In/Out Band
Certifications:
– CE
– FCC
– IC
Rackmount: Yes, 1U High
ESD/EMP Protection: Air: ±24 kV, Contact: ±24 kV
Operating Temperature: -5 to 40° C (23 to 104° F)
Operating Humidity: 5 to 95% Noncondensing
Shock and Vibration: ETSI300-019-1.4 Standard
Core Switching Features
ANSI/TIA-1057: LLDP-Media Endpoint Discovery (MED)
IEEE 802.1AB: Link Layer Discovery Protocol (LLDP)
IEEE 802.1D: Spanning Tree Compatibility
IEEE 802.1S: Multiple Spanning Tree Compatibility
IEEE 802.1W: Rapid Spanning Tree Compatibility
IEEE 802.1Q: Virtual LANs with Port-Based VLANs
IEEE 802.1p: Ethernet Priority with User Provisioning and Mapping
IEEE 802.1X: Port-Based Authentication with Guest VLAN Support
IEEE 802.3: 10BASE-T
IEEE 802.3u: 100BASE-T
IEEE 802.3ab: 1000BASE-T
IEEE 802.1ak: Virtual Bridged Local Area Networks – Amendment 07: Multiple Registration Protocol
IEEE 802.3ac: VLAN Tagging
IEEE 802.3ad: Link Aggregation
IEEE 802.3x: Flow Control
IEEE 802.1D-2004: Generic Attribute Registration Protocol: Clause 12 (GARP)
IEEE 802.1D-2004: Dynamic L2 multicast registration: Clause 10 (GMRP)
IEEE 802.1Q-2003: Dynamic VLAN registration: Clause 11.2 (GVRP)
RFC 4541: Considerations for Internet Group Management Protocol (IGMP) Snooping Switches
RFC 5171: Unidirectional Link Detection (UDLD) Protocol
Advanced Layer 2 Features
Broadcast Storm Recovery
Broadcast/Multicast/Unknown Unicast Storm Recovery
DHCP Snooping
IGMP Snooping Querier
Independent VLAN Learning (IVL) Support
Jumbo Ethernet Frame Support
Port MAC Locking
Port Mirroring
Protected Ports
Static MAC Filtering
TACACS+
Voice VLANs
Unauthenticated VLAN
Internal 802.1X Authentication Server
Platform Specifications
DHCP Server – Maximum Number of Pools: 128 – Maximum Number of Leases (Total): 2048
Routing – Number of Routes: 16 – Number of Routing Interfaces: 15
VLANs: 4093
MAC Addresses: 16,384
MSTP Instances: 4
LAGs: 6
ACLs: 100 with 10 Rules per Port
Traffic Classes (Queues): 8
System Facilities
Event and Error Logging Facility
Run-Time and Configuration Download Capability
PING Utility
FTP/TFTP Transfers via IPv4/IPv6
Malicious Code Detection
BootP and DHCP
RFC 2021: Remote Network Monitoring Management Information Base Version 2
RFC 2030: Simple Network Time Protocol (SNTP)
RFC 2819: Remote Network Monitoring Management Information Base
RFC 2865: RADIUS Client
RFC 2866: RADIUS Accounting
RFC 2868: RADIUS Attributes for Tunnel Protocol Support
RFC 2869: RADIUS Extensions
RFC 3579: RADIUS Support for EAP
RFC 3580: IEEE 802.1X RADIUS Usage Guidelines
RFC 3164: BSD Syslog Protocol
Management
Web UI
Industry-Standard CLI
IPv6 Management
Password Management
Autoinstall Support for Firmware Images and Configuration Files
SNMP v1, v2, and v3
SSH 1.5 and 2.0
SSL 3.0 and TLS 1.0
Secure Copy (SCP)
Telnet (Multi-Session Support)
Layer 3
QoS
Access Control Lists (ACLs), Permit/Deny Actions for Inbound IP and Layer 2 Traffic Classification Based on:
– Time-Based ACL
– Source/Destination IP Address
– TCP/UDP Source/Destination Port
– IP Protocol Type
– Type of Service (ToS) or Differentiated Services (DSCP) Field
– Source/Destination MAC Address
– EtherType
– IEEE 802.1p User Priority
– VLAN ID
– RFC 1858: Security Considerations for IP Fragment Filtering
Optional ACL Rule Attributes:
– Assign Flow to a Specific Class of Service (CoS) Queue
– Redirect Matching Traffic Flows
Differentiated Services (DiffServ):
– Classify Traffic Based on Same Criteria as ACLs
– Mark the IP DSCP or Precedence Header Fields, Optional
– Police the Flow to a Specific Rate with Two-Colour Aware Support
– RFC 2474: Definition of the Differentiated Services Field (DS field) in the IPv4 and IPv6 Headers
– RFC 2475: An Architecture for Differentiated Services
– RFC 2597: Assured Forwarding Per-Hop Behavior (PHB) Group
– RFC 3246: An Expedited Forwarding PHB
– RFC 3260: New Terminology and Clarifications for DiffServ
Class of Service (CoS) Queue Mapping Configuration:
– AutoVoIP: Automatic CoS Settings for VoIP
– IP DSCP-to-Queue Mapping
– Configurable Interface Trust Mode (IEEE 802.1p, DSCP, or Untrusted)
– Interface Egress Shaping Rate
– Strict Priority versus Weighted Scheduling per Queue
Also check