Ubiquiti LTU Lite 5 GHz PtMP LTU Client Radio (LTU-LITE)
The Ubiquiti LTU-LITE is a 5 GHz radio with an integrated antenna design for use as a PtMP CPE. LTU technology breaks through the limitations of 802.11 Wi-Fi technology and supports 1024 QAM for superior performance. Channel width flexibility (10/20/30/40/50 MHz) allows independent TX and RX channel frequency configurations anywhere within the radio band to avoid local interference.

Ubiquiti LTU-LITE Key Features
Proprietary Ubiquiti LTU Processor
13 dBi Integrated Antenna
10/20/30/40/50 MHz Channel Width Flexibility
PtMP CPE
1024 QAM
Central configuration management from AP side
Frequency split
Auto power adjustments
Router mode support
Proprietary LTU Technology
Based on Ubiquiti's LTU technology, the LTU Lite is not impeded by the limitations of standard 802.11 Wi-Fi technology. Its custom LTU silicon and radio architecture provide up to 600+ Mbps1 of real TCP/IP throughput and modulation rates of up to 4096QAM.
CPE Modes
The LTU Lite supports both bridged and built-in hardware NAT router modes to suit your specific deployment.
Frequency Split
The LTU Lite can use different frequencies for TX and RX to avoid interference.
Convenient Mount Options
The LTU Lite is designed for quick yet reliable mounting on a pole or on a wall. All necessary mounting hardware is included.
Deployment Example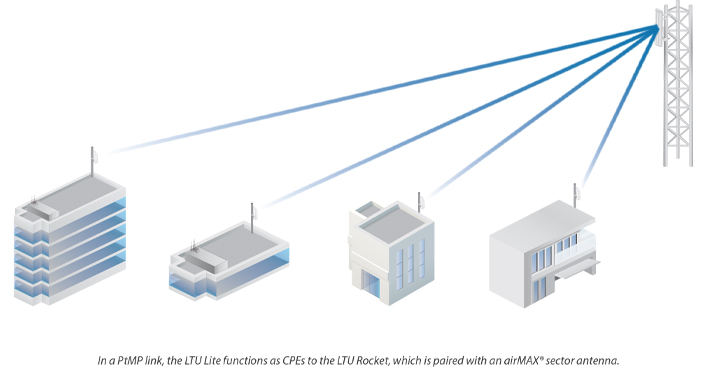 Ubiquiti LTU-LITE – Technical Specifications
General
Dimensions: 153 x 84 x 39.5 mm (6.02 x 3.31 x 1.56″)
Weight: 250 g (8.82 oz)
Networking Interface: (1) 10/100/1000 Ethernet Port
Enclosure: Outdoor UV Stabilised Plastic
Max. Power Consumption: 8.5W
Power Supply: 24V, 0.5A Gigabit PoE Adapter (Included)
Power Method: 24V Passive PoE (Pairs 4, 5+; 7, 😎
Voltage Range: 22 – 26V
Max. Conducted TX Power: 22 dBm per Chain
Gain: 13 dBi
Cross-pol Isolation: 20 dB Minimum
Max. VSWR: 1.8:1
Beamwidth: 45° (H-pol) / 45° (V-pol) / 45° (Elevation)
Polarisation: Dual Linear
Mounting: Pole-Mount Wall Mount (Kit Included)
Wind Loading: 20 N @ 200 km/h (4.5 lbf @ 125 mph)
Wind Survivability: 200 km/h (125 mph)
ESD/EMP Protection: ± 24kV Contact/Air
Operating Temperature: -40 to 55° C (-40 to 131° F)
Operating Humidity: 5 to 95% Noncondensing
Certifications: CE, FCC, IC
Operating Frequency (MHz)
Worldwide: 4800 – 6200*
US/CA:
– U-NII-1: 5150 – 5250
– U-NII-2A: 5250 – 5350
– U-NII-2C: 5470 – 5725
– U-NII-3: 5725 – 5850
Bluetooth LE Management Radio (MHz)
Also check