Ubiquiti NanoStation Loco M5 MIMO Wireless Bridge/Base Station
The Ubiquiti NanoStation Loco M5 provides a secondary ethernet port with software enabled PoE output for seamless IP Video integration. The unit features a panel antenna and dual-polarity performance, which is ideal for Point-to-MultiPoint (PtMP) applications requiring high-performance CPE devices.
Ubiquiti airMAX NanoStation Loco M5 Features
Connect two locations or points via wireless, with 5Ghz 802.11n
Throughput – 150+ Mbps
Range – 10+ km
Signal strength, which is reported by the on-board LED indicator
AP mode, client or WDS with Traffic shaping and QoS
Intelligent POE
Remote hardware reset circuitry of the Ubiquiti NanoStation Loco M5 allows for the device to be reset remotely from power supply location. In addition, any Ubiquiti NanoStation can easily become 802.3af 48V compliant through use of Ubiquiti's Instant 802.3af adapter.
Remote reset is an additional option. Ubiquiti NanoStation M comes standard as 24V without remote reset.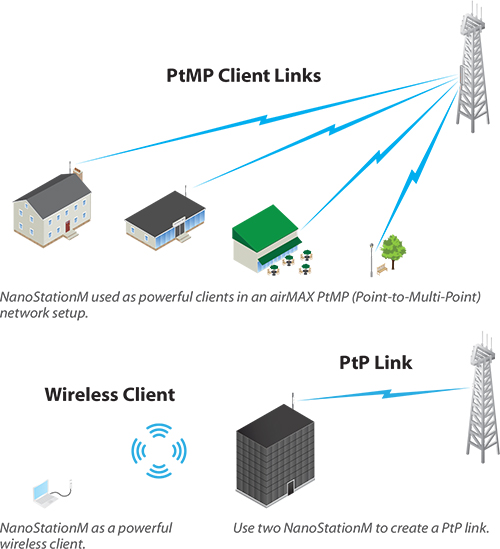 Please visit the Ubiquiti Firmware page for the latest Firmware upgrades
Ubiquiti airMAX NanoStation Loco M5 – Technical Specifications
System Information
Processor Specs: Atheros MIPS 24KC, 400 MHz
Memory: 32 MB SDRAM, 8 MB Flash
Networking Interface: (1) 10/100 Ethernet Port
Regulatory/Compliance Information
Wireless Approvals: FCC Part 90Z
RoHS Compliance: Yes
Physical/Electrical/Environmental
Dimensions (mm): 163 x 31 x 80
Weight: 0.18 kg
Power Supply (PoE): 24V, 0.5A
Max. Power Consumption: 5.5 W
Gain: 13 dBi
Polarisation: Dual Linear
Enclosure Characteristics: Outdoor UV Stabilised Plastic
Mounting: Pole Mounting Kit Included
Power Method: Passive Power over Ethernet (pairs 4, 5+; 7, 8 return)
Operating Temperature: -30 to 75° C
Operating Humidity: 5 to 95% Condensing
Shock and Vibration: ETSI300-019-1.4
Operating Frequency Summary (MHz)
Worldwide: 5170 – 5875
USA: 5725 – 5850
USA DFS: 5250 – 5850
Antenna Information
Gain: 13 dBi
Cross-pol Isolation: 20 dB Minimum
Max. VSWR: 1.4:1
Beamwidth: 45° (H-pol) / 45° (V-pol) / 45° (Elevation)