Ubiquiti TOUGHCable TC CARRIER – 1000 ft (UISP-Cable-Carrier)
The Ubiquiti TOUGHCable UISP-Cable-Carrier (previoulsy called TC-CARRIER) is a Category 5e, outdoor, carrier-class shielded cable with an integrated ESD drain wire. Its impressive features provide optimal performance on Gigabit Ethernet networks.
Ubiquiti TOUGHCable TC-CARRIER (UISP-Cable-Carrier) Key Features
Anti-Crosstalk Divider
Braid Shield
Foil Shield
Weatherproof
Increases Performance Dramatically
ESD Damage Protection
Length: 1000 ft
Ubiquiti TOUGHCable CARRIER is currently available as a Level 1 Shielding Protection, Category 5e, outdoor carrier-class shielded cable.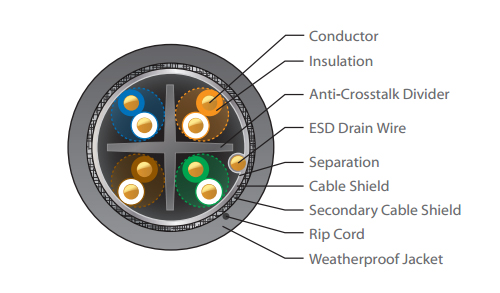 Protection Against ESD Attacks
ESD attacks are overwhelmingly the leading cause for device failures. The diagram below illustrates the areas vulnerable to ESD attacks in a defenseless network. By using a grounded Ubiquiti Power over Ethernet (PoE) adapter along with Ubiquiti TOUGHCable and Ubiquiti TOUGHCable Connectors, you can effectively protect yourself against ESD attacks.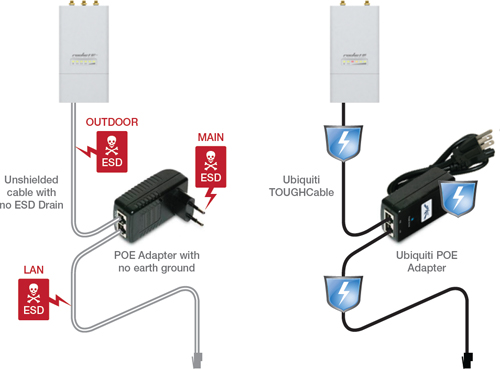 Ubiquiti TOUGHCable Connectors
Specifically designed for use with Ubiquiti TOUGHCables and available in 1 or 100 pc. bags, TOUGHCable Connectors protect against ESD attacks and Ethernet hardware damage while allowing rapid field deployment without soldering.
Available Options:

Not Required
1 pc
4 pcs
10 pcs
20 pcs
100 pcs
Ubiquiti TOUGHCable TC-CARRIER (UISP-Cable-Carrier) – Technical Specifications
Cable
Ethernet Support
Conductor Wire Gauge
Conductor
Conductor Diameter
Insulation Type
Insulation Thickness
AVG: 0.295 mm, MIN: 0.29 mm
Insulation Diameter
Separation (Polyester Wrapping)
Thick: 0.025 mm, Extent: 20 mm
Anti-Crosstalk Divider
Cable Shield (Aluminum Foil)
Thick: 0.060 mm, Extent: 20 mm
ESD Drain Wire
Rip Cord
Secondary Cable Shield (Braid)
Jacket Material
Jacket Thickness
AVG: 0.52 mm, MIN: 0.46 mm
Jacket Outer Diameter
Jacket Color
Reference Standard
ISO/IEC 11801, TIA/EIA568B.2
Also check